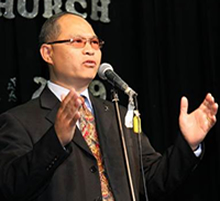 Pastor Letter for May 2016
Dear Members and Friends
Thank you Jesus for the month of April which was full of excitement and blessings to our church and all other churches in our connection. The highlight of April is of course the Adelaide ANZ Burmese Christian churches combined camp. We thank God for Adelaide Jesus Family Church Pastor paul Kai Pu and all the members for hosting us there. We thank God for Ko Kyaw kyaw and his management and leadership team for making things possible with no complaints, the theme of this year camp was "I am the Alpha and the Omega" all three main speakers Rev Mung Tawn , Rev Sai Kyaw tint and Saya Ko Ktwe spoke well on the subject and brought lots of encouragements and challenges, we are also thankful for three of our English speakers for youth sessions, Pastor john, Pastor Matthew and Pastor Steven Htut for their commitment and blessings they brought to our new generation. Ma Janet and Sunday school team looked after 50 kids without any major incident. Thank you all for your support and prayers has been answered with huge great result. Sydney team and all other team worked in unity and lead by the Holy Spirit and we all can say Amen.
This month "May" we will celebrate Mothers' Day on the second week, and they deserve our thankfulness and that will be our privilege to serve them and make them feel special. Jesus Himself didn't neglect his responsibility to care for Mother Mary even in his last hours on the cross. We can reflect and rejoice with mothers near and far and for those who nolonger have their earthly mothers they can have sweet memories on this very special mothers' day 2016.
God is good to us as we focus on our church fivefold ministries this month it comes to SYNA (Serve Your Neighbor Australia), we will have our mission awareness fundraising dinner on May 14th Saturday evening and preparations are well under way with presentation, invitation, catering and distribution of tickets. It is so exciting to receive good reports from Lashio Agape mission clinic and Sittway Alpha and omega clinics reaching out to the community with medical and spiritual care. Saya Dany and Rev Ai Nap are working hard with their teams. Our God is a missionary God who sent His son Jesus to safe all sinners we are representatives of His mission and ministries to be fulfilled until He comes. God bless you all and get excited to reach out to the world and stand for the truth of the gospel and shine His light in this broken world. We exist to celebrate God's presence, demonstrate His grace in missions and educate God's people with His unchanging covenant love and peace. Have a very blessed mission focus month and count more of god's blessings. Amen.
In Christ, Shane khin (Pastor Burmese Christian Church Sydney)