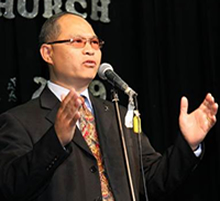 Pastor Letter for October 2015
Dear Members and Friends
September 2015 started with rain and freshness beautiful flowers green grasses lots of freshness lively environment in Sydney and singing how great thou art in our worship time bring us new inspiration in reflection of the wonder of our God. Our family camp this year from October 2-4 was a significant one with well attended from church members and surrounding Christian friends form Wagga Wagga, Wollongong and Canberra altogether men, women and children about 200 people attended. We congratulate Ko Pea, Ko Soe Soe and all organizing team members who worked hard to put things in order and make things happened. Saya Zaw Minís lectures and all his sharing touched all Christian family needs, I believe many not only just received information but truly transformed live. Singles can hope in the Lord, married can see fulfillment in the word of God and family are blessed by trusting and obeying the promises of God in the Bible and grandparents can bless their generation with teaching, praying and encouraging according to the blessings form the scriptures.
Blessings for generations to come starts with the fear and the reverence of the worshiping father who has faith in God, we all are experiencing violence, immorality, unbelief of the word of God and all kinds of hopelessness in relationships and abusive behavior in our modern society, people become self-centered, arrogant, lack of respect for self and others and all of this rooted in no fear of God and not acknowledging the existence and authority of God in their lives but the Bible says in Psalm 128:1 Blessed is everyone who fears the Lord, Who walks in His ways.
This is the key to all of the blessings that follows, people are working harder due to all kinds of demands and a very competitive global market, however there are many who canít benefit any of their hard works and ended in a miserable lives. However that is not the case in this Psalm as it says in verse 2 You will get what you work for. You will enjoy the Lordís blessings, and all will go well for you. That is the promise and the true outcome of those who fear and respect the Lord.
Also in todayís many families experiencing broken relationship, bitter separations and harsh divorce for the lack of taking Godís authority and covenant seriously. In verse 3-4 it says Godís blessings is at home for those trust and respect Him ď At home, your wife will have many children, like a vine full of grapes. The children around your table will be like an orchard full of olive trees. 4 Yes, the Lord will really bless those who respect him. And finally Godís blessings follows their generation as Verse 6 says ďAnd may you live to see your grandchildren.Ē Blessings and grace belongs to those who trust and honor and fear God and they can see in their work, their home and in their generations.
Now and forever. Amen
In Christ, Shane khin (Pastor Burmese Christian Church Sydney)