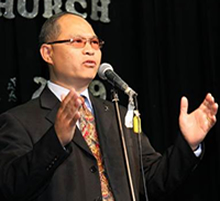 Pastor Letter for September and October 2014
Dear Members and Friends
Thank the Lord for cold, wet and windy winter this year but full of God's blessings though, the month of August was quite cold and yet we had wonderful thanksgiving services throughout the month. The generosity of church members demonstrated God's blessings and dedication to Jesus by giving sharing loving and worshipping.
Spring time is here in Sydney, beautiful flowers, plenty of sunshine and seasonal fruits and vegetables will make us fresh and happier but without our annual family camp and celebration of Fathers' Day all will be very dry. We thank God for this year Rev Nathan Preng (Lahu Theological Seminary) and Rev San Toe (Myitkyina) will bring us the word of God.
Please pray for our family as we visit Burma during September and October and excuse us from being absent from our family camp this year. Please also pray for my Mum who is 79 and needs good health and good memories. We will be visiting Lashio with the invitation of Rev Ai Nap from Wa Baptist Convention. Life in Christ is full of hope, revival, beauty, new perspectives, plenty of things to share and bless other people and of course it is like the Spring time. Life in Christ is a new creation 2 Corinthians 5:17 17 Therefore, if anyone is in Christ, the new creation has come:[a] The old has gone, the new is here!.
The key word is in Christ, because outside of Christ is full of old sin, old bad habits, old thinking and old boring life style. The world we live today is full of violence, uncertainty, hopelessness, fear, disease and anxieties. Everyday news brings us unpleasant images and bad news, however to face all this we need Jesus and His power of resurrection. Without the love of Christ, the power of the Holy Spirit and the grace and peace of our heavenly father we will be lost forever like anyone else. Jesus found us and rescued us by His own blood. Jesus gives us His promises to claim it every day in healing .1 Peter 2:24 He himself bore our sins" in his body on the cross, so that we might die to sins and live for righteousness; "by his wounds you have been healed." His provisions Philippians 4:19 And my God will meet all your needs according to the riches of his glory in Christ Jesus. And we are to claim His peace and victory daily as of John 16:33 "I have told you these things, so that in me you may have peace. In this world you will have trouble. But take Have very blessed Spring time and may you all heart! I have overcome the world." reflect the newness of Christ in seasons and out of seasons forever more. Amen and Amen.
In Christ, Shane khin (Pastor Burmese Christian Church Sydney)