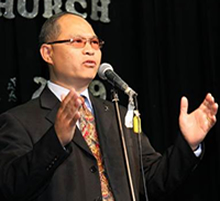 Pastor Letter for March 2014
Dear Members and Friends
Good Autumn everyone, we just past a hot and dry summer however the heaven opens up here in Sydney in the beginning of a new season and we all can agree that this is shower of blessings. In season and out of season Jesus Christ is our Lord. This month we will focus on the God of hope who died for our sins, who took the judgment of death on our behalf and who rose again.
In the midst of pain, problems, crises and agony whether we are young or old, married or single, in group or as individual we need to hear the word of hope. About one and a half years ago my next door neighbor knocked at my door and in my surprise she was in tears and asked me whether I know any lawyer , because she wanted to divorce her husband with lots of unfulfilled demands and needs of their marriage. I told her to sit down and offered her a cup of cold water just to calm her down, then my wife and I we listened to her story about half an hour. we know that she can go on for another hour easily but I took control of the conversation offering her the word of hope which is from the bible from Matthew 6:34 donít worry about tomorrow. Each day has enough trouble of its own. Tomorrow will have its own worries. We also told her this is not our own words but the words of Jesus. She and her family are not Christians but they heard the word of God through us, we then told her just to agree with us as we pray for all her wants and needs in the name of Jesus, she did agree with us in prayers for about fifteen minutes, then we encouraged her to trust the Lord 100% with her situation. She went home calmly and from that day on we always pray for her family to be at peace with each other. We as Christians have lots of privileges to share the hope of Jesus to our friends, neighbors, family, and colleagues and to the strangers in their struggles. After a year and a half she came back to us with homemade pie which is one of my favorites saying that she appreciate our encouragement and prayers. What we did was sharing the words of Jesus. Our prayers has been answered, a few months later most of their problems in their relations has been solved.
We are agent of hope for Jesus, there is power in Jesus name and we just need to trust simply in His promises, His presence and boldly pray for people in their troubles. People donít come to you by chance or by accidentally but the Lord has called you to be His witness. Hope in Jesus starts from hearing His words and that hope can only be seen by others when we obey His commandment and instruction. Hope in Jesus is not a magical words or myth but base on His truth and grace in His promises. Finally Hope in Jesus means eternal blessings, some hope are false hope, some hopes are temporary relief but the hope we can find in Christ the Lord is ever lasting hope because Jesus is eternal, the beginning and the end. Have a blessed autumn and be an agent of hope in this world in which many people who are facing life with hopelessness.
In Christ, Shane khin (Pastor Burmese Christian Church Sydney)