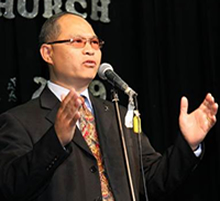 Pastor Letter for July 2014
Dear Members and Friends
Right in the middle of the cold winter here in Sydney no matter what we choose to praise the Lord. We may be too busy with lots of appointments, commitments, conferences and events, our primary purpose is to worship the Lord with a grateful heart. I can't believe half of 2014 has just gone and I am 50 and half years old now and I thank God for that. I want to thank you all for making celebrate Jesus more joyful and more exciting this year. I want to thank Pastor Sam and his church for accommodating us at his church New Covenant worship center in Regents Park. I also want to thank Ko Po Zaw and team , Saya Victor Moe and team, Saya Saw Gweh Too and team, Pastor Sam and team for leading anointed and powerful praise and worship. I also want to thank Ko Zau Nan Sherai for looking after lighting , big thanks to Ko Judson Tun Than for helping playing key board, Naw Naw and media team, Ma Seng Tawng and Ko Steven for cooking we all can see God's goodness in your commitment and love for Jesus.
As Hill Song conference starts hundred and thousands of people from all over Australia and around the world flogging in to Sydney and this year we can host more people at our church for God has blessed us with shower and toilet facilities at church and for a new 12 seater bus. As I attended the opening night on Monday June 30th I learned that people are keen to hear God's word and want their friends to hear and be blessed by the name of Jesus no other name, it was my privilege to take a friend of mine who is seeking what is the truth in life and the message he heard through Pastor Steven Furtick . I am very pleased to take my friend to hear the message.
Faith comes from hearing, understanding and receiving the word of God as Paul wrote in Romans 10:17 (HCSB)17 so faith comes from what is heard, and what is heard comes through the message about Christ. Another important matter is that we should apply the word we received into our own lives as James wrote 22 but be doers of the word and not hearers only, deceiving yourselves. 23 Because if anyone is a hearer of the word and not a doer, he is like a man looking at his own face[i] in a mirror. 24 For he looks at himself, goes away, and immediately forgets what kind of man he was. 25 But the one who looks intently into the perfect law of freedom and perseveres in it, and is not a forgetful hearer but one who does good works—this person will be blessed in what he does.
Live out your faith in Jesus name and have a blessed July with lots of love, peace and joy. AMEN!
In Christ, Shane khin (Pastor Burmese Christian Church Sydney)