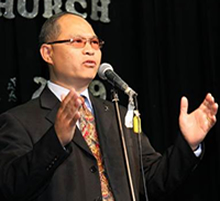 Pastor Letter for November 2015
Dear Members and Friends
Gíday to you all in Jesus name because He is in charge of our days, our weeks, our months and our years. Time really flys fast we are now entering into November 2015. October was a really busy for us all, pupils busy with their schools assignments and exams church busy with missions, out reaches, building projects and many activities, our church Childrenís day and youth Sunday went well with lots of prayers and hope.
This month we will focus on prayer for the nations especially for Burma and Australia. I thank the lord for church memberís commitment to pray together, to study Godís words in a regular basis and our fellowship programs are designed to demonstrate the love of God towards each other so that we can all grow together in loving God and serving God and represent Him in the community and in this broken world. We may be busy with striving to reach our goals and serving God in our own capacities, however without Him we can do nothing says Jesus Christ our Lord in John 15:4 Remain joined to me, just as I also remain joined to you. No branch can bear fruit by itself. It must remain joined to the vine. In the same way, you canít bear fruit unless you remain joined to me. Jesus is the source of all our blessings and He is the one who is praying for us now.
This month on the 8th November there will be a general election in Burma and we must pry that the Lord will heal the land because lots of hatred, pride, lies, bitterness, unforgiveness, violence, confusion, complication and mistrust among the people and in the spiritual realm there are many who choose to worship evil spirit knowingly or without knowing. However as we are believers in the God the Father who is the creator, God the son who is the savior and God the Holy spirit who is the sustainer we can intercede for people of Myanmar to come to know Christ and commit to Christ in their spiritual journey. I believe in prayers and trust that God is at work in Myanmar through His believers to give hope and live by faith. We are instructed to pray for our land, pray for the lost souls to be saved and healings and grace for countries and nations as the bible says in 2 Chronicles 7:14 New Century Version (NCV) 14 Then if my people, who are called by my name, will humble themselves, if they will pray and seek me and stop their evil ways, I will hear them from heaven. I will forgive their sin, and I will heal their land.
We should also pray for Australia that people of Australia will have faith in God and overcome sin and Satan in Jesus name. God is good and we are called to share His goodness and grace and pray and seek His kingdom. Amen.
In Christ, Shane khin (Pastor Burmese Christian Church Sydney)