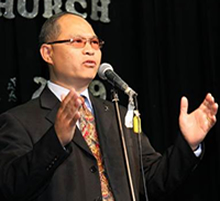 Pastor Letter for December 2014
Dear Members and Friends
Greetings in the name of our Lord and savior Jesus Christ. November 2014 was so blessed with great celebrations of married coupleís day on the first Sunday and senior citizens Sunday on the last Sunday of this month. Very happy to see people of church enjoying their journey of faith in Jesus Christ as individual and as couples. Whether we are young or old we belong to Jesus and thatís what matter most in life.
First greetings I received this morning from a friend is sweet December!, it was so nice to receive that greetings and thatís make me think what was the reason behind this and then as I reached to my bible the Lord has revealed His new grace from 1 Corinthians 1:4-9 ďI always thank my God for you because of the grace that he has given you through Christ Jesus. 5 In him you have been blessed in every way. You have been blessed in all your speaking and all your knowledge. 6 This proves that what we told you about Christ is true. 7 Now you have every gift from God while you wait for our Lord Jesus Christ to come again. 8 He will keep you strong until the end so that on the day when our Lord Jesus Christ comes, you will be free from all blame. 9 God is faithful. He is the one who has chosen you to share life with his Son, Jesus Christ our Lord.Ē It is so true that our Christian life is about receiving grace from God that we do not deserve and that grace is a person and will never change no matter what. Our celebration in life is not just December but eternal because when we receive Jesus we are blessed in many ways including our speech and our knowledge of the beginning and the end of temporal things and the everlasting love of God in Christ. Therefore we know what is happening around us and what will happen in the future as the bible told us that Jesus is coming back again, we can have a living hope and live according to His will. The best of all when we greet each other Merry Christmas, thatís mean God open door for everyone to share heavenly blessed life with His only son Jesus who came to this world to save all sinners and give life eternal. Praise God , thank god , bless God and worship the lord because this is Christmas for you and me and for all. Amen! Joy to the world the Lord has come.
Have a wonderful Christmas and a blessed New Year 2015. Amen.
In Christ, Shane khin (Pastor Burmese Christian Church Sydney)