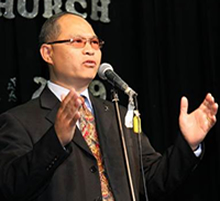 Pastor Letter for August 2015
Dear Members and Friends
Blessed winter and wonderful August in which BCC will have thanksgiving services, and annual general meeting. Let us give thanks for the love of our Father who art in heaven. He first loves us and sent His one and only begotten son Jesus Christ our Lord. As we read John 3:16 which is a very personal verse for all believers we realize that God doesn't want anyone of us to be perished but have everlasting life in Him and we wonder how can this be? In this very broken world full of pride, lies, selfish, angry and greedy people.
God reveals is love to us by His creations firstly and help us to know His time because He is eternal God and He wants to spend time with us eternally from this day forward therefor He let us know that we are entering into the new month called August, here in Sydney we are in the middle of winter, and in USA is in the middle of Summer and in Burma it is rainy season. However August is the month we can count of all God's blessings through God's creations and also through His unchanging words as Luke 16:17 says "It would be easier for heaven and earth to pass away than for the smallest part of a letter in the law to be changed." It's so true that seasons change, people change, circumstances change but God's love never change and it is written in the holy Bible. We can give thanks for God the Father who created the whole universe and us as individual and given us His revelations in all created things and in His words.
Romans 5:8 "God shows his great love for us in this way: Christ died for us while we were still sinners." God the father qualified us all to be saved by sending His son to die on behalf of all sinners and this is very personal. It doesn't matter people, systems of the world, Satan and sins disqualifying you or failing you, don't be discouraged and live in a hopeless situation because God the father is offering you to turn back to Him by putting absolute faith in His son so that we all can reconcile back to eternal fellowship. Jeremiah 31:3 says "And from far away the Lord appeared to his people and said, "I love you people with a love that will last forever, That is why I have continued showing you kindness." Amen. Let us all enter into August 2015 with a thankful heart because of the father heart of God that reveals His love throughout all generations as we all delight in His purpose, His promises and His presence . Yes we are here and alive and excited to give thanks to count all His blessings as we see and hear and feel all of His goodness, greatness and peace in spirit and in truth. Hallelujah!
In Christ, Shane khin (Pastor Burmese Christian Church Sydney)