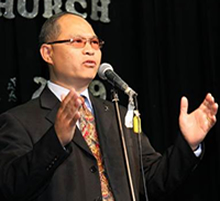 Pastor Letter for May 2015
Dear Members and Friends
Praise God forever more. Thank you Jesus for your love, your death and resurrection which bring us hope and eternal life. During April we celebrated our salvation and righteousness in Jesus Christ our Lord. Thank God for the successful 2015 April 16-20 A & NZ combined camp at Gold Coast Mt Tambourine Christian Conference center, the unity, love and the presence of the Lord really blessed us all, Hallelujah.
Isaiah 55:8-9 The Lord says, "My thoughts are not like yours. Your ways are not like mine. Just as the heavens are higher than the earth, so my ways are higher than your ways, and my thoughts are higher than your thoughts.
This is what I learned during April. Our family supposed to be at Gold Coast combined but a phone call from my sister from Yangon changed our course completely. My beloved mother who is in her 80 was seriously ill and we immediately returned to Burma on April 10th and on the aero plane, I prayed that I could catch my mother alive and pray for her. Yes the lord did answered my prayer when I got to Insein my Mum was still alive but in coma, however I prayed with her, hold her hands and we sang hymns and read scriptures beside her bed. It was emotionally draining, physically tiring but great benefit for our spiritually life. The Lord is with us, His presence is powerful, His words are comforting and there is hope in Jesus because His life, death and resurrection answered all our questions about life here and after. I want to thank BCC Syd for showing love and sympathy in times of sorrows and grief. I also thank God for all our friends near and far, show love. Mum gone to her heavenly home on 11th April Saturday 2015 at 9:35 pm peacefully at our Insein home. Beside her bed, our family, Ma Ohnmar family, Breaky family and Ko Bana and Adler skyping. Please pray for Rev Htura and Ma Betty as they head back to Bahmaw this month to have memorial service for their beloved mother Daw Roi Jee who has gone to her heavenly home on April too.
We will all celebrate Mothers' Day on the second week of May this month. What I learned as Mum gone home, Mothers never die because they are part of us, as they all have invested the faith, hope and love of Jesus which will never fade away. Doesn't matter your mother is alive on earth or gone to the glory of god we must and we will celebrate Mothers' Day. God bless all the mothers at BCC Syd and all who are in connection with us. Have a "Happy Mothers' Day 2015."
In Christ, Shane khin (Pastor Burmese Christian Church Sydney)