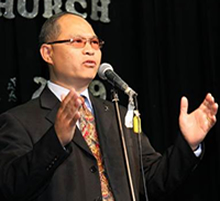 Pastor Letter for March 2015
Dear Members and Friends
Greetings in the name of Jesus. February 2015 went quickly with lots of stories and many blessings to be thankful and be counted for. Our Sunday Schoolís bible competition was the one that we can be thankful for the organizer Ko Oon Oon and team putting lots of efforts and thoughts to bless our kids and their family.
Congratulations to Jasinta Lazum and Som Som Maran for their second consecutive winning events. Our church singlsí day special was great with lots of thoughts and prayers for our singles and a very inspiring message from Rev Htura. Our visit to Canberra was a very enjoyable sharing the goodness of God with friends in Canberra. Ma Cho Lay shared her faith with Dr U Thet Swe for more than two hours and that was a good fellowship time and we will go to Canberra again on the first Saturday of March. Htu Seng and Hkun Nawng wedding was one of the best kinds because of a unique traditional dress and beautiful church decorations and of course the presence of the Lord may all the joy, blessings and prosperity be with their marriage forever. Our church 23rd anniversary was well attended with friends from Saesoon church, Wagga Wagga and Wollongong and Mr Grahame Kerrís preaching inspired all and a young man from our church gave his life to serve Jesus in response to his preaching Hallelujah.
As Good Friday and Easter Sunday is approaching fast let us all meditate on the blessings and promises of the cross of Christ and what it means to us from now on. The cross of Jesus is a symbol of Godís new covenant Ephesians 2:14-16 for he himself is our peace, who has made the two groups one and has destroyed the barrier, the dividing wall of hostility, 15 by setting aside in his flesh the law with its commands and regulations. His purpose was to create in himself one new humanity out of the two, thus making peace, 16 and in one body to reconcile both of them to God through the cross, by which he put to death their hostility. It is so true that without Christ weíll be at war with God and man He is our peace term for reconciliation of God and mankind and permanent peace between our fellow human beings. Through the cross God makes all things possible by the suffering, pain and death of Jesus. Jesus is our Yes and Amen to God and the new covenant through Him will never be broken. 2 Corinthians 1:20-22 The yes to all of Godís promises is in Christ. And that is why we say ďAmenĒ through Christ to the glory of God. 21 And God is the one who makes you and us strong in Christ. God is also the one who chose us for his work.[a]22 He put his mark on us to show that we are his. Yes, he put his Spirit in our hearts as the first payment that guarantees all that he will give us. Letís march on our Christian journey in the name of Jesus and and follow the path of the cross to fulfil Godís purpose and plan. Have a great happy and joyful March. In Jesus Christ our Lord.
In Christ, Shane khin (Pastor Burmese Christian Church Sydney)