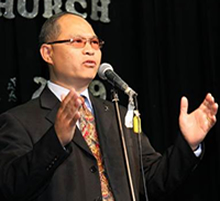 Pastor Letter for February 2016
Dear Members and Friends
Thank the Lord for one month old 2016. Bless His Holy name for who He is and what he has been dong among us and our community. We praise God for His guidance, protections, provisions and presence for all our programs during January for all went well and lots of excitement with the fruits of love peace and joy and salvation.
Thank God we will celebrate our church 24th Birthday this month and reflect on the goodness of God in His ministries and mission works. Gracious God giving us and blessing us with Sunday school children, youth and young adults, singles, married couples and families to love and care for one another in Jesus name and to welcome who are outside of our fellowship into our church family. Our partnership with local and and global Christian ministries and missions are going strong with momentum. We are grateful for NSW government grant for our church renovations projects.
As we reflect upon our church ministerial life Psalms 133 reminds us of God's blessings in the unity among brothers and sisters in Christ as it says "How wonderful, how beautiful, when brothers and sisters get along! It's like costly anointing oil, flowing down head and beard, flowing down Aaron's beard, flowing down the collar of his priestly robes. It's like the dew on Mount Hermon, flowing down the slopes of Zion. Yes, that's where God commands the blessing, ordains eternal life."
This reflects our love for one another is genuine and our love for God proves blessings as we agree to honor and bless His name in all that we do. All these blessings bring glory to god's name and bring good names and fragrance to all we serve and in our fellowship. Let us not be distracted with disharmony, unloving manners and the lies of Satan and those who hate church and the mission of Jesus.
Let's all say Amen to the prayer of Jesus Christ our Lord as he prayed for all His followers in John 17 "Holy Father, guard them as they pursue this life, That you conferred as a gift through me, So they can be one heart and mind
As we are one heart and mind. As long as I was with them, I guarded them, In the pursuit of the life you gave through me; I even posted a night watch. And not one of them got away, I'm praying not only for them, But also for those who will believe in me, Because of them and their witness about me. The goal is for all of them to become one heart and mind—Just as you, Father, are in me and I in you, So they might be one heart and mind with us. Then the world might believe that you, in fact, sent me. The same glory you gave me, I gave them, So they'll be as unified and together as we are—I in them and you in me. Then they'll be mature in this oneness, And give the godless world evidence ,That you've sent me and loved them ,In the same way you've loved me.
Amen! The true worshippers prove their worship in unity and agreeing that we are one in Christ, lets celebrate our unity in Christ and bless our generation and the generations to come. Amen and Amen.
In Christ, Shane khin (Pastor Burmese Christian Church Sydney)