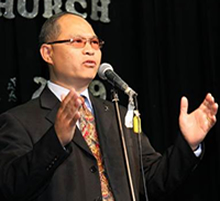 Pastor Letter for December 2013
Greetings in the name of our Lord and savior Jesus Christ. November 2013 was so blessed with great opportunity to celebrate married couples day on the first Sunday and senior citizens Sunday on the last Sunday of this month. Both services has great feedback from people who attended. We thank the Lord for bringing excitements and blessings to us all seeing people are touched and growing in their Christian faith both olds and young.
As we enter into the very special and exciting December 2013, it is always good to start with great celebration in God's presence with Ma Htay Htay's baptism on the first Sunday and our Sunday School children started their caroling too. We praise God for His spirit reaching, teaching and touching people's hearts to respond to the Gospel. Ma htay Htay publicly confessed that she believes in Jesus from heart and made declaration that Jesus is her Lord and savior . The reciting of Psalms 23 by heart touched all worshippers' hearts. We thank the Lord again for Htay Htay for her brave and confirmation as Romans 10:9-10 If you openly say, "Jesus is Lord" and believe in your heart that God raised him from death, you will be saved. Yes, we believe in Jesus deep in our hearts, and so we are made right with God. And we openly say that we believe in him, and so we are saved.
Christmas is fast approaching and the good news is that we can and we must focus on who Jesus is and why he came into this world and apart from that our Christmas will be lack of true meaning. Christmas for many today is all about gifts exchange, food, shopping, holidays, parties and fun, however Christmas is more than that asin the Old Testament, Isaiah 7:14 says "Therefore the Lord himself will give you a sign: behold, a virgin shall conceive, and bear a son, and shall call his name Immanuel." Means Jesus is the greatest gift for mankind to receive eternal life and salvation from unending hell. Also in the New Testament Matthew 1:21 says "She will bear a Son, and you shall call His name Jesus [the Greek form of the Hebrew Joshua, which means Savior], for He will save His people from their sins [that is, prevent them from [a]failing and missing the true end and scope of life, which is God]. The true meaning of Christmas is that Jesus is the son of God who is the redeemer for us coming into the sinful and fallen world with a mission to save us from our sin. Therefore Christmas is a time of receiving the gift from God who is His one and only son Jesus and our mission today is to celebrate His coming and share the good news of salvation to all. Have a wonderful Christmas and a blessed New year 2014. Amen.
In Christ, Shane khin (Pastor Burmese Christian Church Sydney)